AdjustedCostBase.ca includes a feature, available to AdjustedCostBase.ca Premium subscribers, for generating an annual report of all capital gains and losses incurred.
This feature is only available to AdjustedCostBase.ca Premium subscribers.  The cost of the enhanced service is $49/year.  The basic features of AdjustedCostBase.ca remain completely free for Canadian investors.
This report is generated as a PDF file and includes a table listing each realized capital or gain or loss for the year in the same format that the CRA requires for Schedule 3 (Capital Gains or Losses).  The table provides a clear and concise summary of realized gains and losses, simplifying the process of completing Schedule 3 when filing your taxes.  The report can also simplify the process of entering capital gains when completing your T1 tax return using many popular tax software applications such as SimpleTax, StudioTax, TurboTax, H&R Block, UFile and others.
To access the reports, follow the "View All Transactions" main menu link.  Next, follow the "Generate Annual Capital Gains PDF Report":

Finally, select the year for which you wish to generate the report:

The report will then be generated for you to download as a PDF file.  Here's an example report: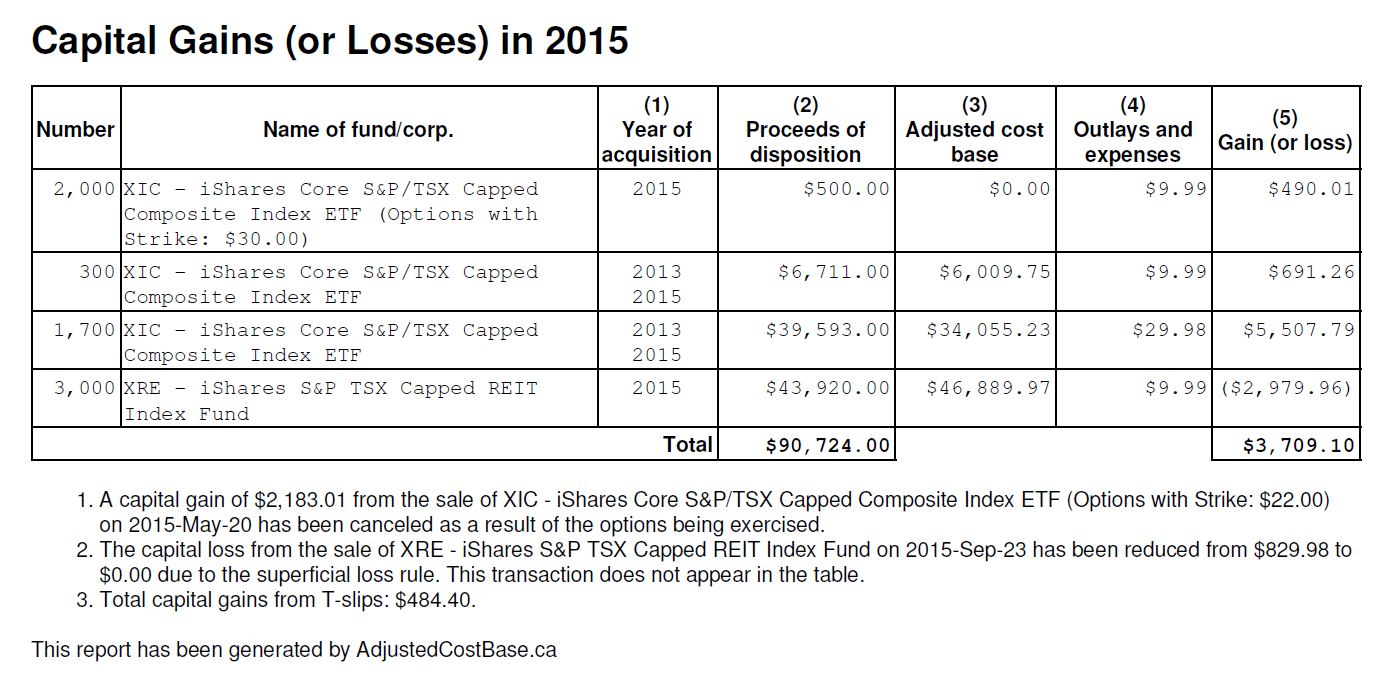 Unlike the full list of transactions on AdjustedCostBase.ca, the table only includes rows for transactions where a capital gain or loss has been realized as a from a disposition.  The report also includes each of the columns the CRA requires for completing Schedule 3.
Transactions that do not result in a realized gain or loss – such as purchases, splits and return of capital – are not included in the table.
The table does not include capital gain distributions, which would normally be included on your T-slips, but the total of these values is listed below the table.
Dispositions where a capital loss has been reduced to zero due to the superficial loss rule are not included in the table either, but these transactions are listed in the notes below the table.
The table includes only a concise list of transactions that would need to be listed on Schedule 3, with the same columns required for Schedule 3:
Year of acquisition
Proceeds of disposition
Adjusted cost base
Outlays and expenses
Gain (or loss)