AdjustedCostBase.ca has released a new feature that provides a fast and easy way for Canadian investors to import the tax information that impacts adjusted cost base and capital gains for many securities including Exchange Traded Funds (ETFs), Publicly Traded Mutual Funds and Trusts.
This feature is only available to AdjustedCostBase.ca Premium subscribers.  The cost of the enhanced service is $49/year.  The basic features of AdjustedCostBase.ca remain completely free for Canadian investors.
This feature saves Canadian investors a great amount of time and hassle.  It works by automatically importing the capital gains, return of capital, and non-cash distribution information reported by public funds.  In a few quick and easy steps, these transactions can be applied to a security in your account.
A vast number of funds are covered by this service.  The coverage includes exchange traded funds (including ETFs from iShares, Vanguard, BMO, Horizons, PowerShares, First Asset, Purpose and others) as well as publicly traded mutual funds, income trusts and real estate investment trusts (REITs).
While this information can be imported manually, it's a very tedious and error-prone process to research and interpret the tax information, input the transaction one by one, and ensure accuracy.
Let's look at a real-world example involving the iShares Core S&P/TSX Capped Composite Index ETF (ticker symbol XIC).  XIC is one of Canada's largest and most widely-held ETF's, with over $2 billion in assets.
Suppose you purchased 1,000 units of XIC settling on January 8th, 2015 at a price of $22.75/share with a $10 commission.  After adding the security and purchase transaction in your account, the list of transactions would appear as follows: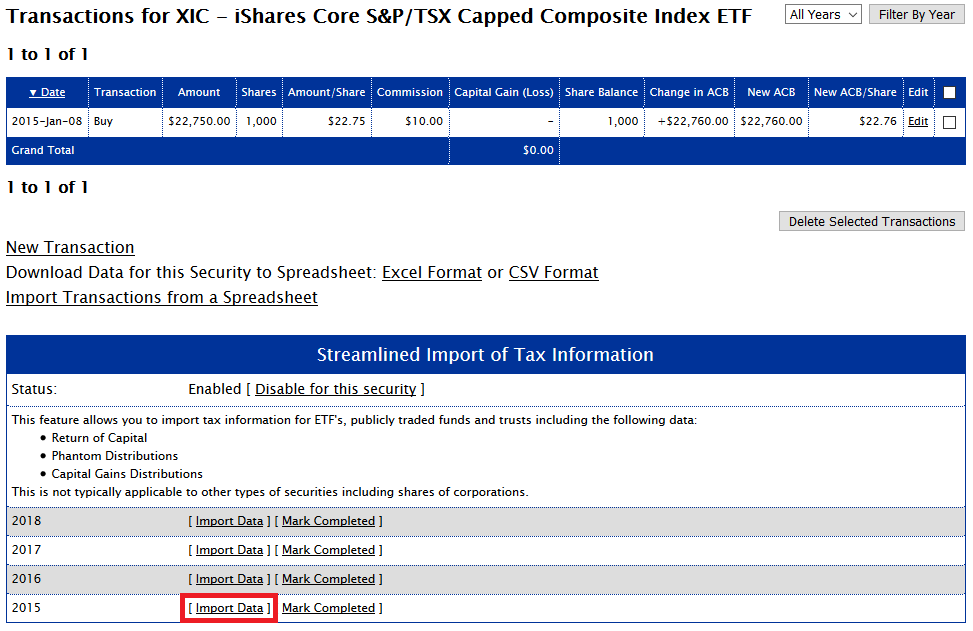 The ACB for XIC is initially $22,760.  Let's assume that no other purchases and sales occurred for XIC in 2015 and that all the distributions were deposited into your account as cash.  Even in this case, the ACB can still change as a result of return of capital or non-cash (reinvested) distributions, and indeed that's what happened with XIC and 2015 (this is a very common occurrence with ETF's).
One option is to manually collect all the necessary information and enter the transactions, as described here.  To save time and aggravation, AdjustedCostBase.ca provides a streamlined approach, allowing you to avoid this very cumbersome process.  To access this functionality, follow the "Import Data" links in the "Streamlined Import of Tax Information" section on any security's page.  You'll be brought to a form allowing you to search for the ETF in our database: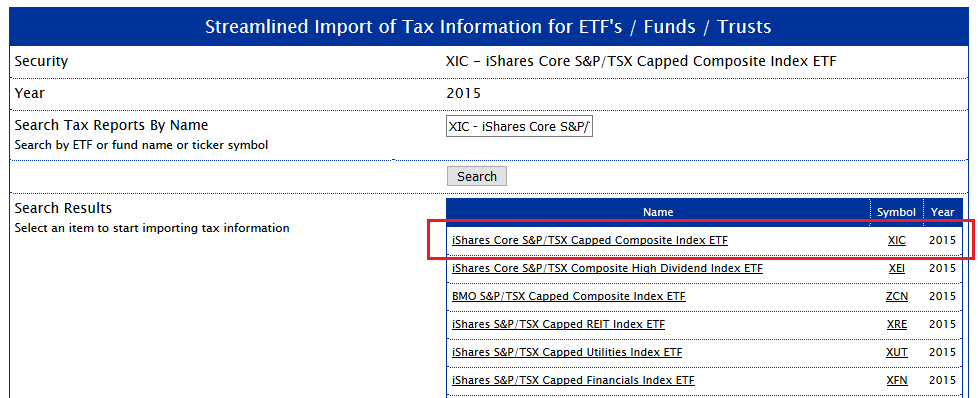 By searching for the name or ticker symbol for the year in question you can find the ETF.  Note that you must still perform a search even if you've given your security the correct name.  After following the link for the correct security, you'll be brought to a page that shows all the return of capital, capital gain dividend, and non-cash distributions for XIC for the year.
Note: An AdjustedCostBase.ca Premium subscription is required to access the functionality below.  However, AdjustedCostBase.ca Basic subscribers can still search for funds, as described above, in order to preview the list of available funds in our datatbase.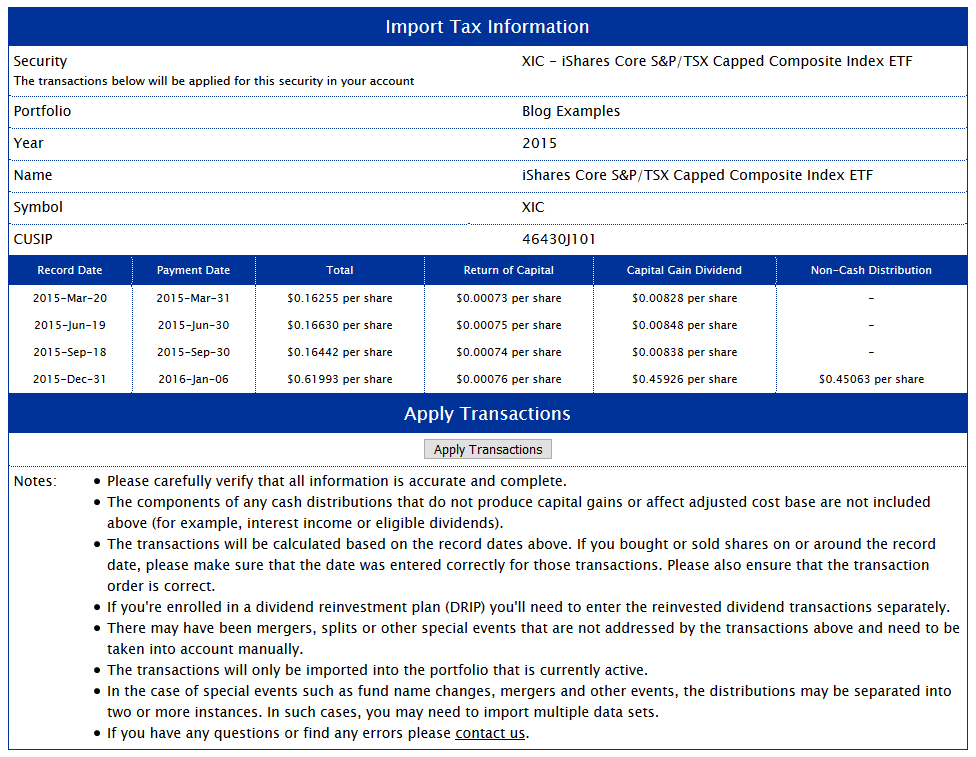 Only return of capital, capital gain dividends, and non-cash distributions are listed.  Your fund may (and in fact most likely did) pay out cash distributions in other forms such as interest income or dividends.
After confirming that the details are correct, you can then click on "Apply Transactions":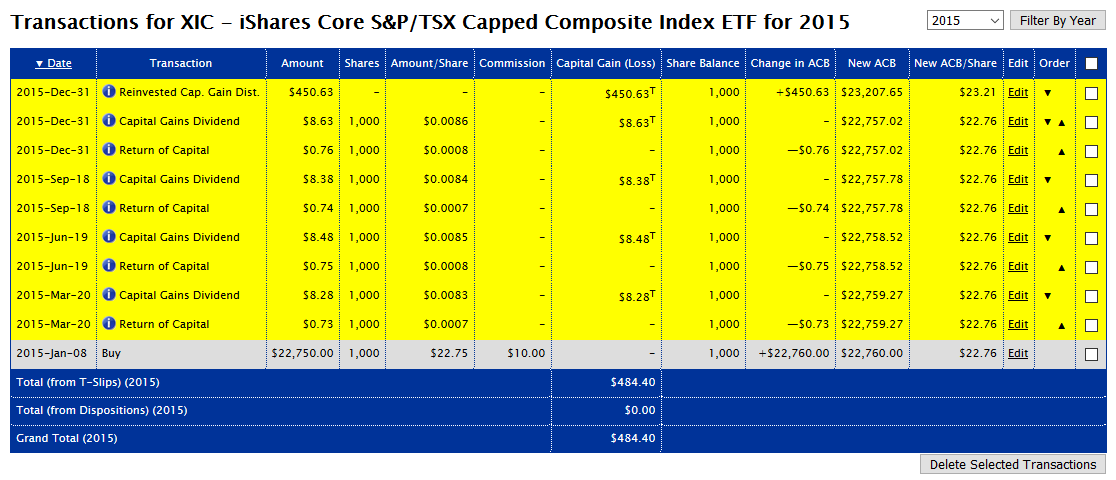 The transactions highlighted in yellow are the ones that were added.  They include "Return of Capital", "Capital Gains Dividend" and "Reinvested Capital Gains Distribution" transactions.
The most significant transaction is the Reinvested Capital Gains Distribution on December 31st.  A Reinvested Capital Gains Distribution (also known as a Phantom Distribution or Non-Cash Distribution) is a reinvestment in a fund that's usually coupled with a capital gain.  The $450.63 in capital gains would be reported in box 21 of you T3 slip that your brokerage sends you.
The most interesting aspect of this transaction is the reinvestment component.  This amount will typically not be included on your T-slip and as a result many investors fail to factor these transactions into the capital gain calculations.  But it's very much in your best interest not to overlook this.  In this example, the reinvestment increases adjusted cost base by the same amount: $450.63.
If you were to fail to include the reinvested amount then your calculated capital gain (when you eventually sell the shares) would be $450.63 higher than it should be (effectively, you would be double-paying the taxes on this non-cash distribution).  Assuming a marginal tax rate of 50%, you would end up paying an extra $112.66 in taxes ($450.63 x 50% x 50%).  And that's simply from forgetting to factor in non-cash distributions for just a single year and for just 1,000 shares of a single ETF.  By taking advantage of this feature, an AdjustedCostBase.ca Premium subscription can easily pay for itself.
You will need to initiate the above process for each year you have a share balance for each ETF / fund / trust that you own.  This step is necessary to allow you to review the details for correctness.
Tax information is added to our database very shortly after each fund reports its tax information for the past year, which typically occurs between early February and mid-March of the following year.  If you don't find tax information for a fund while searching towards the beginning of the year, please check back soon.