SimpleTax is a web-based tax software application that allows Canadian taxpayers to complete and submit tax returns online.  It's one of the few tax software packages that's offered for free (it has a "pay what you want" pricing policy).  It's fairly easy to use and doesn't take long to sign up.  Since it's web-based, you can access and work on your tax return from anywhere.
To use SimpleTax, visit their web site and you can start working on a tax return right away.  SimpleTax provides help and support documentation on their web site, so detailed instructions about this will not be provided here.  Here we'll discuss how to transfer your adjusted cost base and capital gains information from AdjustedCostBase.ca into SimpleTax and use the two tools together.
To begin entering the information into SimpleTax, first you'll need to pull up the "Capital Gains (or Losses)" form.  To do so, search for "capital gains" in the "Add" box inside the "Income, Deductions, and Credits" section as follows:

You'll then see a blank "Capital Gains (or Losses)" form: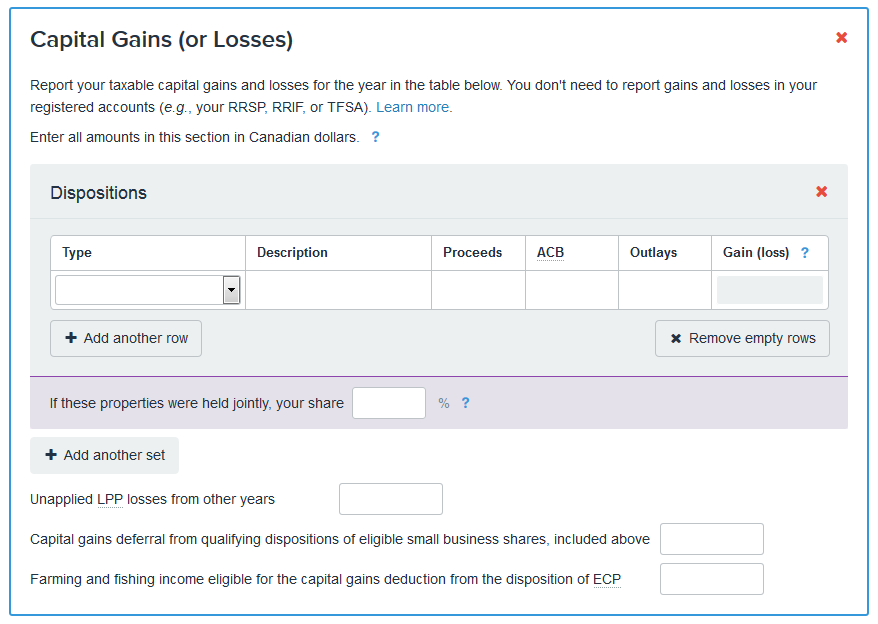 SimpleTax allows you to enter dispositions in different "sets."  This can allow you to apply a percentage share to multiple dispositions when properties are held jointly.  But in these instructions we'll assume the securities in question aren't jointly owned, and a single set will be used.
You can view a list of your transactions for the year on AdjustedCostBase.ca by clicking on "View All Transactions" and using the "Filter by Year" function.  First, let's assume that the following transactions took place during the 2014 tax year and have been recorded into AdjustedCostBase.ca:

When completing your tax return, you only need to focus on the transactions resulting in capital gains or capital losses for the tax year in question.  The relevant transactions that have implications for the 2014 tax year are highlighted above and are as follows:
Sell 50 shares of BBRY with a capital loss of $429.99
Sell 600 shares of XIU for a capital gain of $1,088.02
Capital Gains Dividend for XRE totaling $815.06
Now we can begin transferring this information into SimpleTax.  All these securities are publicly traded shares so for all entries select "Publicly traded shares, mutual fund units, deferral of eligible small business corporation shares, and other shares" as the type.
Starting with the BBRY transaction, input "BBRY" as the description (or any other identifying text as you see fit).  Next enter the amount from the sale transaction of $512.50 into the "Proceeds" column (this amount excludes the $9.99 commission).  Next, the "ACB" column corresponds to the total adjusted cost base of the shares that were sold.  This can be found by looking at the "Change in ACB" column from the transactions list on AdjustedCostBase.ca.  In this case the amount is $932.50.  Note that it's shown as —$932.50 because the total ACB for BBRY is reduced by $932.50 as a result of this transaction.  But the positive value should be inputted into the "ACB" column on SimpleTax.  Therefore, enter $932.50 in the "ACB" column.  Finally, the "Outlays" box should be populated with the commission, if applicable.  In this case it's $9.99.  After entering all this information, the SimpleTax "Capital Gains (or Losses)" form should appear as follows: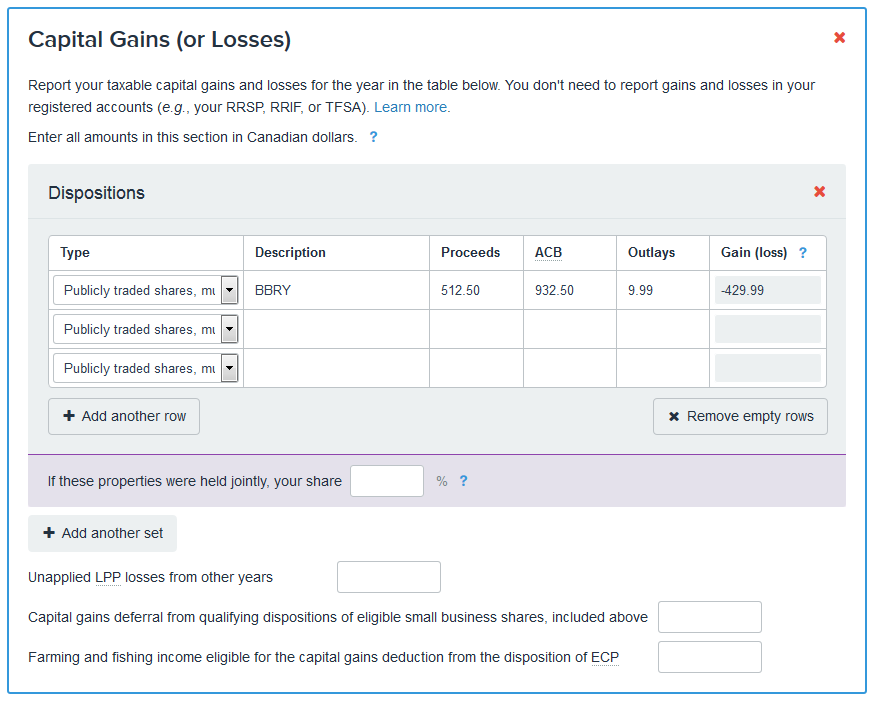 Note that the capital loss is $429.99 is computed automatically by SimpleTax (it does not need to be inputted).  As a sanity check, this value should match the capital gain (or loss) reported by AdjustedCostBase.ca (there may be a slight discrepancy due to rounding errors).
Next, we can add an entry for the sale of 600 XIU shares.  In this case, put "XIU" as the description, $12,834.00 as the "Proceeds", $11,735.99 as the "ACB" and $9.99 for "Outlays."  The form should now appear as follows: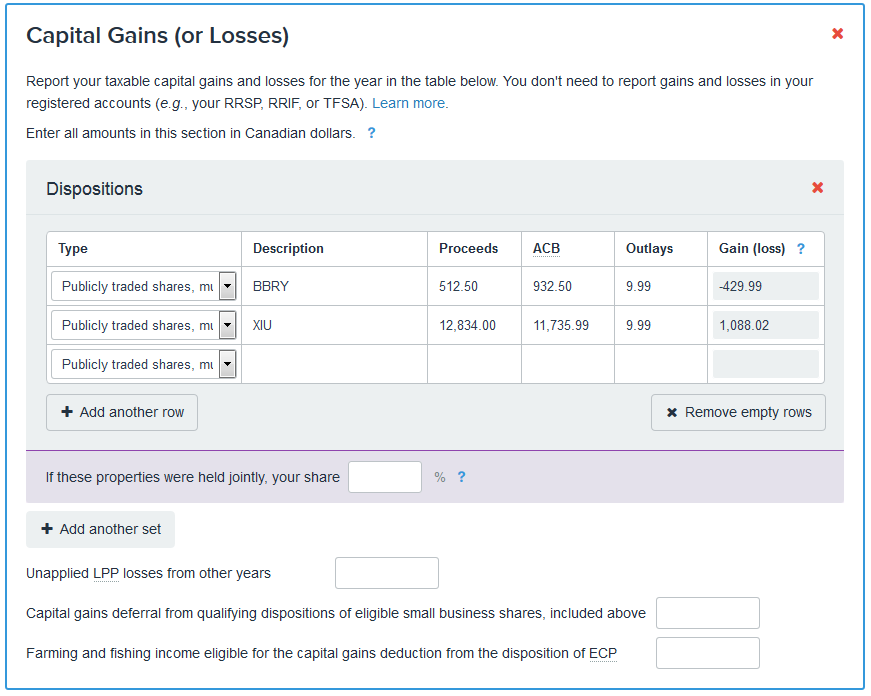 Once again SimpleTax's computed value for the gain of $1,088.02 matches the value computed by AdjustedCostBase.ca.
Finally we have the "Capital Gains Dividend" of $815.06 transaction for XRE.  However, this transaction should not be included in the "Capital Gains (or Losses)" form.  The reason for this is that the capital gain distribution should appear on the T3 slip you get from your brokerage.  T3 slips values are entered elsewhere in SimpleTax.  It's important not to enter this amount twice or you'll be overpaying taxes.
SimpleTax allows you to view all your completed tax forms at any point.  In the "Tax Documents" section you can click on "Schedule 3" to see the completed version of the "Capital Gains (or Losses)" document that makes up part of your tax return.  For this example, this is what it looks like: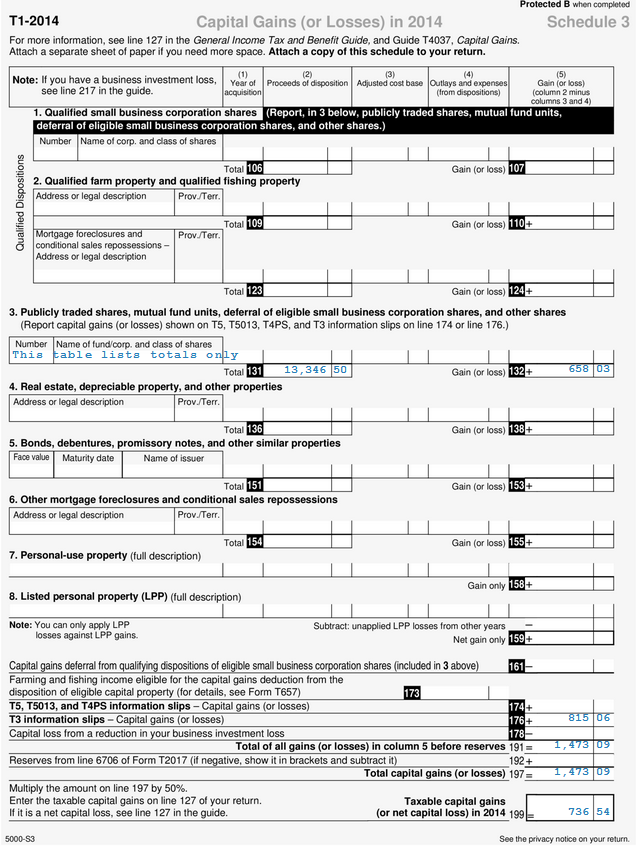 Assuming that you've entered the $815.06 capital gains dividend as part of your T3 slip for XRE, the total capital gains should match between AdjustedCostBase.ca and SimpleTax (there may be a tiny discrepancy due to rounding).
Finally, when you view line 127 on the T1 form, the value should be directly transferred over from line 199 of Schedule 3 (note that this value is half of the total amount of capital gains since capital gains are 50% taxable):